USY - United Synagogue Youth
Our Chapter continued its winning streak at Spring Convention this year. We won the following SEVEN awards:
(1) Gold Excellence Award (sort of like 2nd place for Chapter of the Year)
(2) Best Religious Program
(3) Ahavat Tzion (love for Israel)
(4) Most Improved Communications
(5) Best Membership Initiative
(6) Best Tikun Olam Program
(7) Best Overall Tikun Olam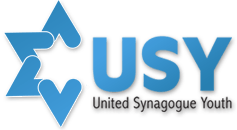 USY (United Synagogue Youth) is the youth organization for Conservative Jewish high school students. Programming occurs at the chapter, zonal, regional, and international levels to offer teens the opportunity to immerse themselves in social, religious, and social-action oriented activities while forming friendships that will last a lifetime. Our synagogue is part of the Hagalil Region of New Jersey. There are chapter events each month as well as monthly regional events. EBUSY (East Brunswick USY) elects its own Board of Officers to develop programming and run the activities. Leadership skills are developed under the guidance and support of our USY Advisor, Erin Kaplan. Membership is open to members and non-members of EBJC.
Fri, September 29 2023
14 Tishrei 5784
Fri, September 29 2023 14 Tishrei 5784